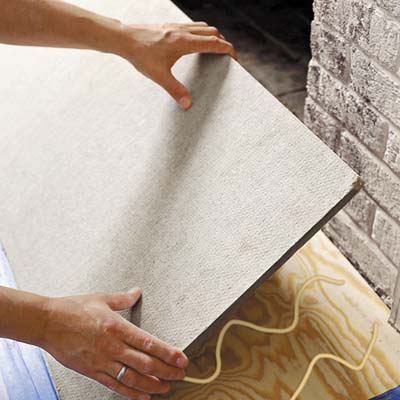 If the hearth area has a concrete-slab substrate, make sure it's level and smooth. If not, mix a small batch of thinset mortar with latex additive following the directions on the packaging. Using the unnotched edge of a trowel, skim a coat of thinset onto the concrete to fill voids and smooth the surface. Allow to dry to the touch before continuing.

If the substrate is plywood, measure the area. Transfer the measurements to a sheet of backer board. Using a utility knife, score the board along the mark. Stand the board up and snap it along the score line. Then cut through the fibers at the snap line.

Glue the board to the plywood with construction adhesive. Using a drill/driver, screw the backer board down with fasteners placed every 12 to 16 inches. Fill the screw holes with thinset.

Tip: Before you begin, protect the finished floor around the hearth with plastic sheeting and painter's tape.