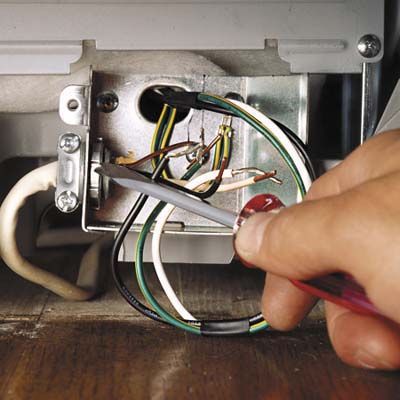 Slide a cable clamp over the end of the exposed wires until it's around the plastic or metal sheathing bundling the wires together. Using a screwdriver, tighten down the clamping bracket over the sheathing to hold the wires in place.

Unscrew the star-shaped nut on the clamp, then push the wires and threaded end of the clamp through the hole in the side of the unit's junction box. Hand-tighten the nut back on the clamp from the inside of the box. Tighten the nut with pliers or a screwdriver.

Line up like colors of wire together—white to white and black to black—and tighten them together with wire nuts. If you have Romex (plastic-sheathed) cable, connect the green ground wire to the dishwasher's green or bare-copper wire with a wire nut.

If you're using BX cable, the armored jacket works as a ground when it's clamped to the junction box. Wrap the exposed tip of the dishwasher's ground wire around a mounting screw on the junction box and clamp it down with the screw.

Stuff the wires into the box and cover it with the metal cover plate. Screw the plate to the box.