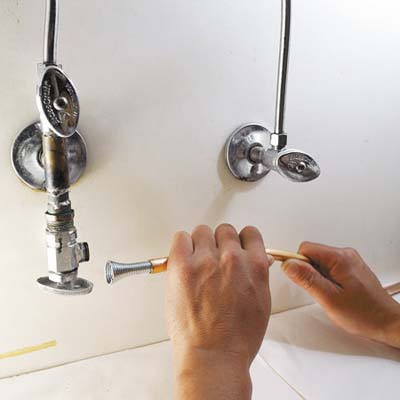 For flush-front (fully integrated) dishwashers: Using a drill/driver fitted with a 2-inch hole saw, make a hole through the side of the sink cabinet facing the dishwasher bay, 3 inches up from the floor and 2 inches in from the back wall. If this hole falls below the cabinet floor, make two 11⁄4-inch holes at the back of the cabinet floor. (For semi-integrated models, reuse the existing holes.)

Carefully uncoil the copper tubing and loosely thread it from the dishwasher bay through the cabinet side and up into the cabinet via one of the floor holes. Uncoil enough copper to get past the front of the bay. Using a tubing cutter, cut the line. Insert a narrow tube-bending spring inside the end of the copper nearest the hot-water valve. Use the spring to shape the tubing toward the valve then down to the hole in the cabinet. Be careful not to kink it.

Slide a compression nut, then a ferrule over the end of the tubing at the valve. Hand-tighten the nut over the ferrule and onto the valve. Using an adjustable wrench, tighten it another quarter turn.

Tip: Tube-bending springs can fit either inside or outside a pipe. The inside springs can only be used on a pipe's ends, but they make tighter turns. Use outside springs to gently curve the middle of a pipe.