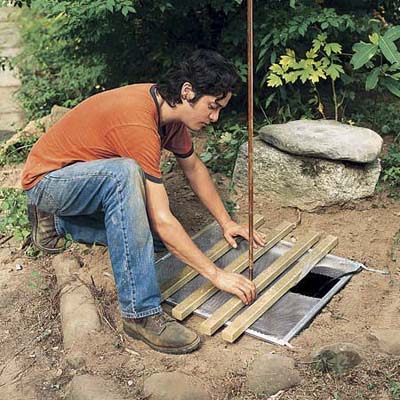 Using a pipe cutter, cut a 4-inch section off the end of the copper pipe. Unscrew the compression fittings on the ends of the ball valve. Slide a nut from the ball valve, then the brass ring, or ferrule, onto the long section of pipe. Insert the pipe into one end of the ball valve, then finger-tighten the nut over the ferrule onto the valve. Attach the short section of pipe to the other end of the valve in the same manner.

Screw the threaded end of the adapter onto the pump outlet. Take apart the compression end and slide the nut, then the ferrule, over the short section of pipe. Connect the pipe to the pump with the compression fitting. Using an adjustable wrench, tighten all three compression nuts an extra quarter-turn.

Pour a 2-inch layer of drainage gravel in the bottom of the basin. Lay the pump in the center of the basin with the pipe sticking up. Slide the screen over the pipe and arrange it so the access flap is near the conduit.