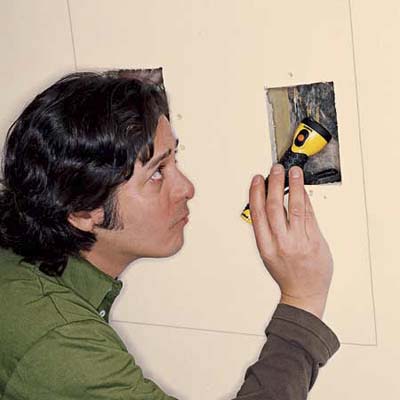 Lightly mark the wall to show the approximate outline of where you'd like the cabinet to hang. Use a stud finder to locate any studs that lie within this outline.
Using a keyhole saw, cut 4-inch-square holes on either side of those studs, staying within the cabinet outline. Keep the angle of the saw shallow so you don't cut any deeper than the drywall and risk hitting wires or pipes.
Remove the drywall cutout. Shine a flashlight into the openings and look around for possible obstructions. Contact an electrician and/or plumber to move wires or pipes if necessary.
Tip:
Before you cut the inspection holes, drive a long screw
½
inch into the drywall in the middle of the cutout area. Use the screw as a handleto remove the drywall intact.