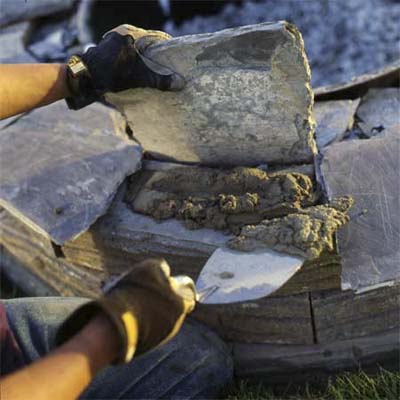 Loosely arrange the cap pieces on top of the pit walls. (If you are using natural stone, try to arrange the pieces together like a puzzle.) Lay one stone edge over the next and mark the upper stone where they meet. Also, roughly mark the stone for a 2-inch overhang on the outside of the circle and an inch on the inside. Using a brick hammer and a chisel, score the stone on those marks. On thick natural stone, use a grinder fitted with a diamond blade to score it more deeply.

Lay the stone on a hard surface. Split it by hitting a chisel in the score mark, or by tapping against the stone's edge with the brick hammer until it breaks. Score and split each stone this way, moving around the circle in one direction until you've made a cap that fits together tightly.

If you're using blocks, glue the pieces on top of the wall. If you're using natural stone, combine the dry mortar with enough bonding additive—not water—to make a mix with a peanut-butter consistency.

Wet the wall with some bonding agent. Lay a large mound of mortar on two blocks. With the point of the trowel, make a groove across the mortar. Lay the capstone on top, push it down, then tap it with the rubber mallet to set and level it. Continue to lay the capstones in this manner until the wall is finished. Wait two days before lighting a fire.