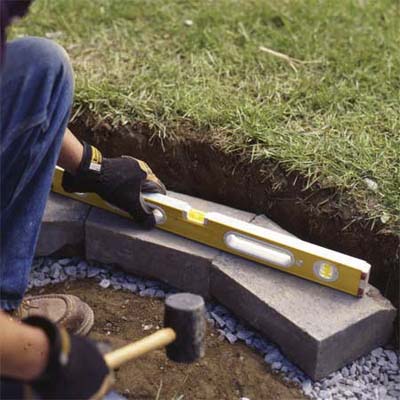 Place the first block in the ring. Using a 2-foot level, check that it sits level both side to side and front to back. Where the block is too high, tap it down with a rubber mallet. Where it's too low, shim it slightly with a handful of patio base. Make sure this first block is perfectly level and positioned correctly in the trench before moving on.

Lay another block next to the first one. Butt the sides together tightly and line up the front and back edges. Using the first block as a reference, level the second block side to side and front to back.

Lay the rest of the blocks in the trench in this manner until the ring is complete and all the blocks you counted earlier are used. Make sure each block is perfectly leveled and lined up tight with its neighbor before moving on to the next one. (You may have to coax the last block into place with a mallet.) Using a 4-foot level, occasionally check level across the ring.

A small hit with a mallet can make a big adjustment; work slowly and carefully, block by block.