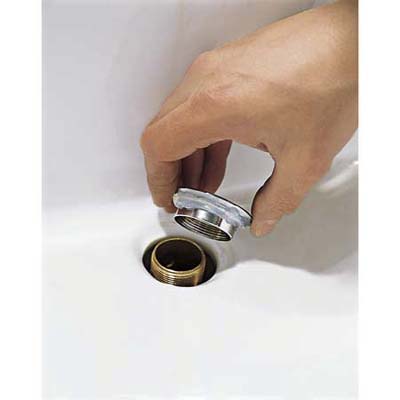 Using tongue-and-groove pliers, unscrew the nuts holding together the trap, the drain tailpiece, and the drain rim under the sink, and remove them all. Thread a large mounting nut, fiber washer, and rubber washer onto the new drain rim.

Apply clear silicone to the underside of the new drain collar. Slide the drain rim up into the drain hole from beneath. Screw the drain collar onto the rim, making sure the hole in the drain rim faces the back. Then tighten the mounting nut to the sink from underneath. Wipe away any excess silicone that oozes out from under the drain collar.

Wrap the threads of the old drain tailpiece with Teflon tape. Attach it to the drain rim. Reassemble the trap.