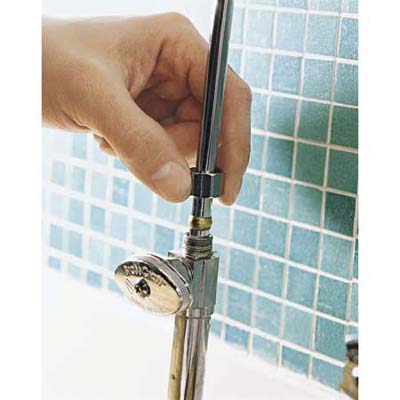 For braided supply lines: Screw the
½
-inch compression fitting to the faucet valve. Screw the
⅜
-inch fitting to the water shutoff valve.
For rigid supply lines: Slide a
½
-inch nut from a compression fitting onto the supply line (you don't need the brass ring, or ferrule, here). Hand-tighten it to the faucet valve over the acorn head. Slide the
⅜
-inch nut and then a ferrule from the fitting onto the line. Hand-tighten the nut to the water shutoff valve over the ferrule.
Using an adjustable wrench tighten the
½
-inch nut an extra quarter-turn. Then, using tongue-and-groove pliers, hold this connection steady while you tighten the
⅜
-inch nut on the water shutoff valve a quarter-turn. Repeat for the other supply line.
TIP:
Get more access to the connection at the water shutoff valve by removing the valve's knob. Just be sure to hold the knob to keep the water supply turned off as you loosen its set screw.