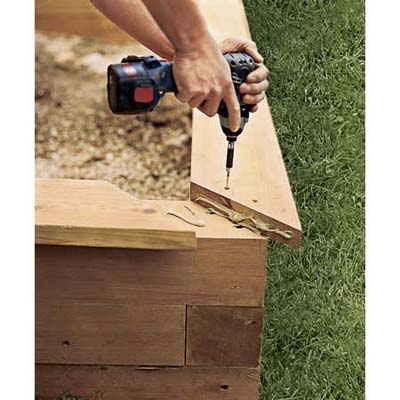 Lay a 2x8 board on top of one wall. Line it up flush with the inside edge. Mark the board where it meets the inner corners. Using a speed square, extend this mark at a 45-degree angle projecting outward.

Using a circular saw guided by the square, cut the ends at 45-degree miters. Repeat this process on the other three sides of the bed until you have a frame of 2x8s that sits flush with the inner edge of the bed and protrudes 2 inches over the outer edge.

Apply construction adhesive along the top of the timbers and on the board's mitered edges. Lay the boards in place. Fasten them to the timbers with 3-inch decking screws every 12 to 16 inches. Drill a horizontal pilot hole through the rails edge and across the mitered corner. Drive a 3-inch screw into the joint to prevent it from opening.