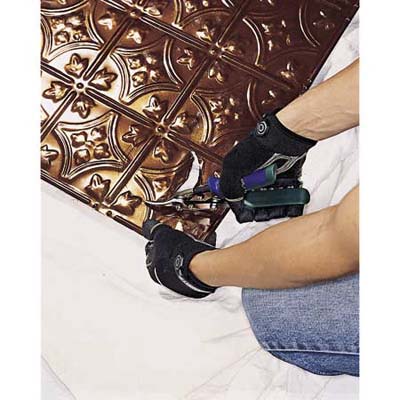 When you reach a cutout in the plywood, make a similar cutout in the metal. Use a fine-point marker and a straightedge—or a compass—to draw the fixture's outline.
Draw a second line
¼
- inch inside the first to create a slightly smaller cutout. Later, you can bend the extra metal over the plywood to hide the sharp edge.
Place a wood scrap behind the panel and drill a
⅜
-inch starting hole for the tin snips. Cut along the line, then make
¼
-inch relief cuts along the cutout edge.
Install the panel over the fixture opening and bend the metal inside the plywood.
Continue installing full panels until you get close to the wall. Measure the distance between the last full course and the wall.
Using snips, trim the panels to fit. Install them with the cut edges facing the wall.