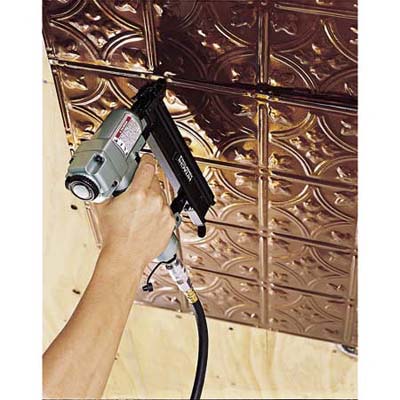 As you begin nailing up panels, leave one or two sides unfastened so you can tuck the edge of the next panel to be installed underneath it. The panels should always overlap with exposed edges facing away from the entrance to the room.
Align the corner of a panel at the intersection of the layout lines. Using a brad nailer, fasten it to the plywood every 6 inches along the edge. Angle the nails slightly. Don't nail any edges that need to overlap the next panel.
Ceiling panels have raised bubbles along their edges, which create a perfect
¼
-inch overlap. Tuck the edge of the second panel under the first panel, lining up the bubbles.
Nail through two layers of metal at the bubbles. Continue nailing up panels in this manner.