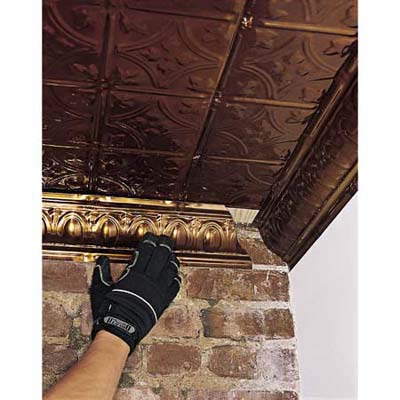 Lay out the precut coped and mitered cornice pieces on the floor to determine how they'll be arranged on inside and outside corners.

Coped pieces slide into square-cut pieces at inside corners. Mitered pieces meet at 45-degree angles at outside corners. However, the starting piece should have square cuts at both ends.

Hold a cornice to the ceiling on the starting wall, overlapping the edge of the last row of panels. Mark its bottom edge on the wall.

Use a level to extend this mark across the wall and around the room, creating a level reference line for positioning all the cornice pieces.

Place the first cornice on the line and against an inside corner. Nail it to the wall and ceiling every 6 inches. Continue installing square-cut cornice pieces until you reach the next corner. Cut the last piece to fit.

After installing cornice pieces across the first wall, move on to the adjacent wall.

Cut a coped joint on a length of cornice and then slide it tightly into the corner. Then, install the rest of the cornice around the room.

Seal cornice seams. Then caulk and touch-up any gaps. If desired, you can prime and then paint the ceiling.