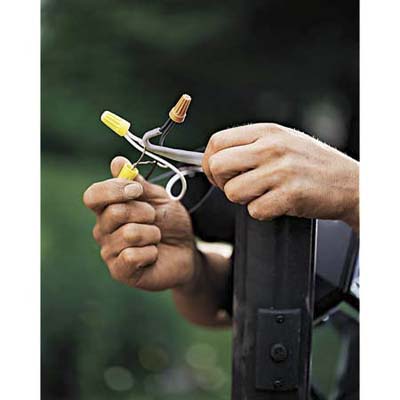 Once the concrete is hard enough to hold the post without straps, use a utility knife to carefully peel away 3 inches of the gray insulation from the UF cable coming out of the post to reveal the three wires encased in it: white, black, and a bare copper (or green) ground. These correspond to like-colored wires on the lantern.
Use wire strippers to expose
½
inch of bare copper on all the colored wires from the post and lantern. Pair the wires from the lantern to those from the post, matching white to white, black to black, and bare copper to bare copper (or green). Twist on wire nuts to hold the pairs together.
Slide the lantern onto the post and tighten its set screws to secure it. Have a licensed electrician connect the wires to the breaker box and install a switch in a convenient location.