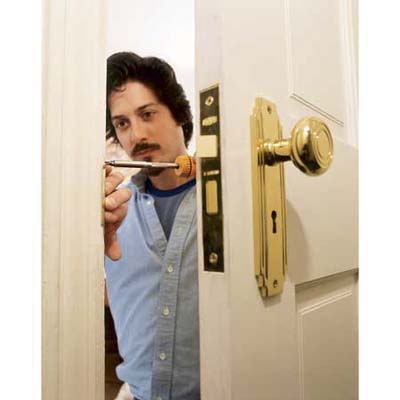 Once all the holes and mortises are finished, prime and paint or stain and finish the door. Make sure to cover all six sides with finish so it's completely sealed and won't swell in high humidity.

Position one half of a hinge (with the inner knuckles) in its mortise on the door. Use a centering punch to make starting divots for the screws. Screw the hinge leaf to the door. Repeat on the other two hinges. Screw the other halves of the hinges to the doorjamb.

Hang the door, slotting the hinges together and slipping in the pins.

Install the lockset. Attach the backplates (or escutcheons) and door-knobs. Don't screw the knobs onto the spindle too tightly or you won't be able to turn them. Screw the new strike plate to the jamb.