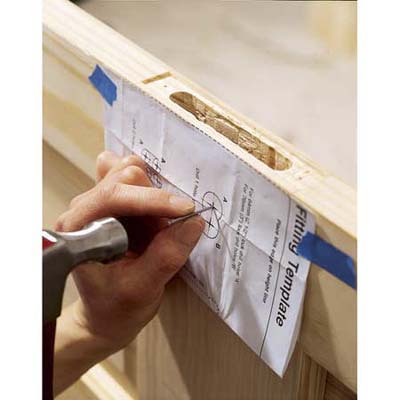 Mortise locks require holes for the spindle and keyhole. New locks come with templates to locate these, but be sure you use the holes spaced for your lock's backset (distance from spindle to door edge).
Line up the template and tape it in place. Use a centering punch or a hammer and nail to make a starting hole for your drill bit at the spindle location and the keyhole location (if applicable).
Remove the template. Using a drill/driver fitted with a
¾
-inch bit, drill through the face of the door at the spindle location. Use a
⅜
-inch bit to drill two holes to make the keyhole.
Tip:
To keep the face of the door from splitting as you drill, hold or clamp a scrap block of wood against the door where the drill bit will exit.