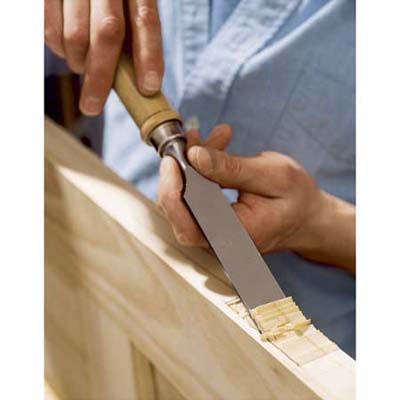 Once again, remove the door and set it hinge side facing up.
Disassemble a hinge. Take half and line it up at a hinge mark, knuckles toward the outswinging door face and its straight side
⅛
inch from the edge. Trace the hinge in pencil onto the door. Then hold the hinge edge against the face of the door under the outline and draw a line under it. This will be a depth guide for your chisel.
Score through the layout lines with a utility knife. Be careful not to cut deeper than the guide lines. Carefully make a series of cuts, or kerfs, between the scored lines with a chisel and mallet. Sighting the chisel from the door face, tap lightly until each cut is at the depth of the guide lines. Hold the chisel bevel side down, and plow out the shards between the kerfs.
Once you've chiseled out the waste wood from the mortise, turn the chisel over—bevel facing up—and scrape the mortise clean and smooth. Check its depth and smoothness with a hinge leaf. It should rest squarely in the mortise and flush with the door edge. Finish the other mortises in the same way.
Tip:
To hold the door upright on its edge, put "feet" on it—screw long, wide scraps of wood to the top and bottom ends, resting tight against the floor.