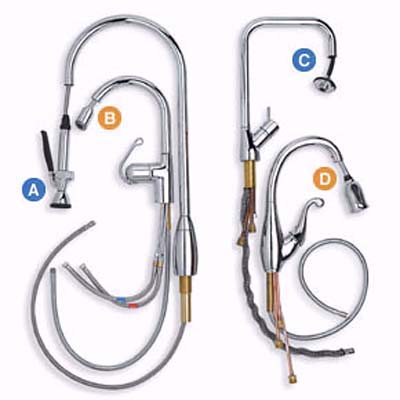 This pro-style faucet with an extra-large arching spout, 2
½
feet of hose, and a spray head designed for the full-fist grab is equally good at filling large pots or washing the family dog. ProMaster, from Kohler, $1,172.
B. MOD SQUAD
A narrow spray head blends right in with the spout when retracted, making this slim faucet a must-have for a Modern-style kitchen. Lady Lux Café, from Grohe, $570.
C. FAST GRAB
A saucer-shaped pull-down spout can be maneuvered with just two fingers. Culinaire, from American Standard, $455.
D. FLORAL ARRANGEMENT
A tulip-shaped head and teapot-spout handle give this simple chrome pull-down faucet some added interest. Floriano, from Brizo, $424.