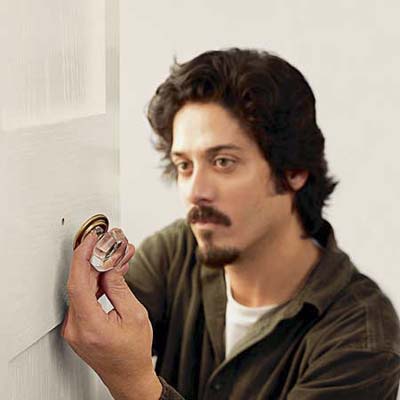 For flat doors, measure 36 inches from the floor on each leading door. Then mark the center, side-to-side, at that height. For paneled doors, find the center of the middle rail instead. Hold a straightedge diagonally from corner to corner on the rail, draw a line in the middle, then switch to the other diagonal and cross the line. The X marks the rail's center.
Drill 3/16?inch holes at each mark and screw on door pulls.
Cut a piece of 1x2 stock the width of the closet opening to conceal the track. Prime the trim and let it dry. Use a 1/16?inch bit to drill pilot holes through the underside of the trim into the header. Screw the trim to the header with 2
½
?inch trim screws. Fill the screw holes, then paint the trim to match the casing.