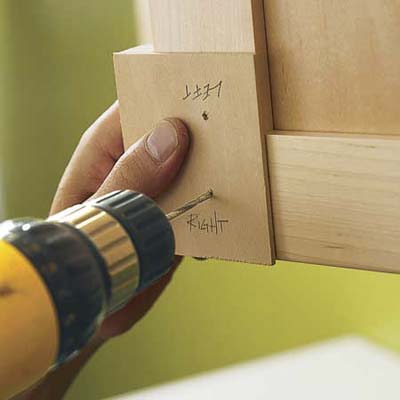 Use a drill/driver to make holes for knobs on the doors and pulls on the drawer fronts. Screw the knobs and pulls in place. See illustration for instruction on attaching new drawer fronts. If the drawer has a front attached to a four-sided box, unscrew the old front and screw on the new one.

If the old front is attached to a three-sided box, use a handsaw to cut off the sides, top, and bottom of the front so that it's flush with the box. Then turn the drawer around and screw the new front to the back end of the drawer. Screw from the inside of the drawer. Remove the drawer-slide hardware and reattach it facing the other way.

Tip: When drilling knob and pull holes, make a jig out of plywood to keep the hole placement consistent.