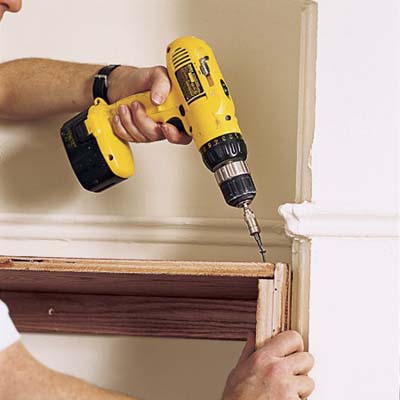 To make the hanging strip that attaches the bookcase to the wall, rip a 2
½
-inch-wide piece of plywood. Cut it to length 1
½
inches shorter than the shelves.
Lay the two legs on their back edges, supports facing each other. Place the hanging strip between the top supports, flush with their tops and back edges.
Using a drill fitted with a
⅛
-inch combination bit, drill two pilot holes into each leg. Drill through the leg and the support, and into the hanging strip. Screw the hanging strip to the legs with 2
½
-inch wood screws.
Slide the bottom shelf into place for support. Tilt the assembled frame into place. Set the top of the bookcase onto the supports and the hanging strip. Drill countersunk pilot holes along the edges of the bookcase top — two into each support and one every 8 to 10 inches along the hanging strip. Glue and screw the top in place, above.