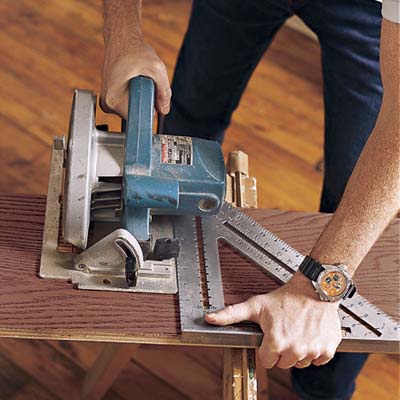 Have the lumberyard rip your plywood into boards to the width that matches your bookcase depth. Before you cut and assemble any parts, sand all the wood. Stain or prime it and allow it to dry.
Measure the height of the space where the bookcase will go. Cut two bookcase legs to this measurement from the ripped-down plywood
Measure the width of your space in three places. Subtract 1
½
inches from the smallest measurement. Cut the shelves to this length from the plywood. (Make sure you also cut a piece for the top.)
If you want your shelves to be different heights to accommodate different sizes of books, you must mark the legs where the supports will be. Hold one leg against the wall and mark where you'd like the bottom of each shelf to fall. Try to line up the shelves with nearby architectural details, such as baseboards, windowsills, and mantels.
Lay both legs on a table, butted evenly next to each other. Use a framing square to transfer the shelf marks from one board to the other. Then place a plywood scrap on edge at each line and mark the width of each shelf.
Measure between the lines to get the sizes of the support pieces. Use a circular saw guided by a Speed Square, ABOVE, to cut the supports from the ripped-down plywood. Cut the topmost supports
¾
inch short.