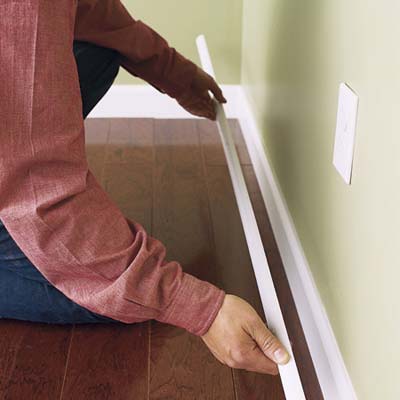 Trim the doorstops on either side of the doorway to the height of the transition molding. Then cut a piece of transition to fit between the doorjambs.

Set the transition on the subfloor. Overlap the flooring on either side, but leave a 5/16-inch gap against the floating floor. Drill three pilot holes along its center to keep the transition molding from splitting, then fasten it to the subfloor — not the flooring — with 4d finish nails.

Now measure the walls for shoe molding. Try to complete each wall with one piece. If necessary, join pieces with a scarf joint.

For inside corners, use a coped joint or simply miter the two pieces. Cut miters for outside corners, too.
Set the molding in place tightly against the floor. Fasten it to the baseboard — not the flooring — with 4d finish nails.