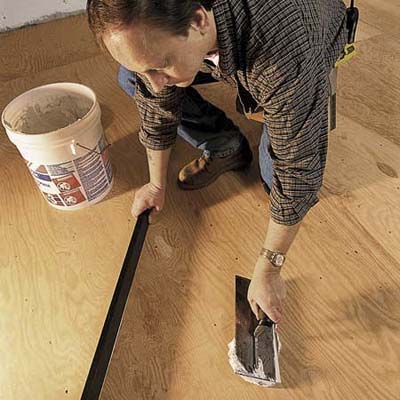 With a pry bar, gently remove the baseboard trim. Also remove the end caps on baseboard heaters, registers for forced-air vents, plates for floor receptacles, and any other obstructions. Add a box extender to the floor receptacles, as code requires.
Walk over every inch of the floor listening for squeaks. Wherever the existing wood flooring is loose, batten it down with ring-shank nails or Phillips-head screws, and set them flush. Fasteners should penetrate at least
¾
inch into the floor framing.
Repair loose or damaged sheet flooring. Over badly damaged floors, glue and fasten sheets of AC-grade
¼
-inch plywood, with the "A" side facing up.
Check for flatness by sweeping a 10-foot straightedge across the floor. Mark the floor wherever light shows underneath the edge. Level humps with a belt sander. Fill depressions deeper than 1/8 inch with troweled-on patching compound; sand it smooth when dry.