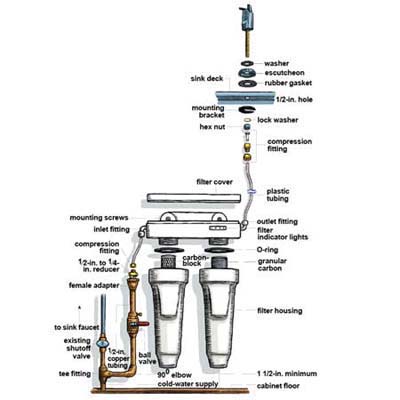 Americans spend nearly $6 billion a year on bottled water, and the rest of the world chugs down another $29 billion worth of the stuff. Given this trend, we asked This Old House plumbing and heating expert Richard Trethewey to show us how to install an undersink water-filtration system.

Richard chose a dual-cartridge water filter for this kitchen. This model has both carbon-block and granular-carbon filters, as well as a dedicated faucet and an electronic monitor that signals when it's time to replace the filters (after 500 gallons have passed through them, or six months). Dual filters reduce most common chemicals and contaminants found in tap water—from a municipal source or ground well—including lead, mercury, asbestos, pesticides, and cysts. They'll also eliminate sediment, and bad taste and odors caused by the chlorine added to municipal water supplies.

The system shown here comes with all the necessary hardware and tubing to complete the installation. However, Richard upgraded the system by adding a new ball valve to the water-supply tubing that feeds the filters. This allows the homeowners to shut off the water to the unit to change the filter without cutting off the sink's main faucet.


Contribute to This Story Below
Drill/driver with step-drill bit,
to drill hole in sink top

Propane torch

Emery cloth,
for cleaning pipe prior to soldering

Adjustable wrench

Tongue-and-groove pliers

Close-quarters tubing cutter

Basin wrench,
to tighten hex nut that holds filter faucet to sink top

Copper fitting brush (for cleaning copper tubing and fittings

Tape measure

Eye goggles

Center punch,
to strike a starting point on stainless steel sink deck prior to drilling
1. WATER FILTER KIT2. LEAD-FREE SOLDER AND PIPE FLUX3. 1/2-INCH COPPER TEE4. SEVERAL FEET OF 1/2-INCH COPPER TUBING5. 1/2-INCH FEMALE ADAPTER6. 1/2-INCH TO 1/4-INCH REDUCER7. 1/2-INCH BALL VALVE8. TEFLON TAPE
applied to reducer before threading onto female adapter
9. TARP OR BLANKET
to protect kitchen floor
10. FIRE-RESISTANT CLOTH AND FIRE EXTINGUISHER