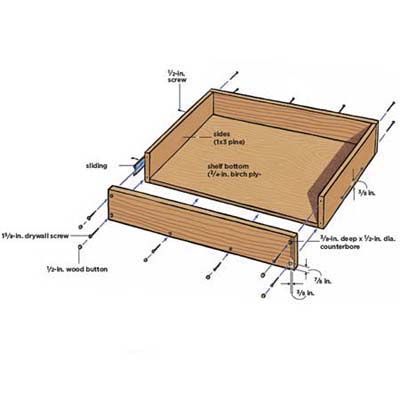 With a pull-out shelf, the shallow drawer on full-extension slides eliminates the need to get down on your hands and knees to pick through the back of the cabinet in near darkness. Building and installing a retrofit pull-out shelf is actually a simple process, as This Old House master carpenter Norm Abram shows here.

The sides of the drawer can easily be cut using a power miter saw or a backsaw in a miter box; the bottom can be cut with a circular saw or even precut at the lumberyard. The pieces join together with basic butt joints, which are glued and screwed. Finally, to simplify the finishing process, Norm uses a quick-drying but tough spray lacquer.

There are factory-made wire baskets, trays and other sliding storage devices you can buy. If you go this route, however, be wary of second-rate hardware—it can sag and drag under a load of pots and pans. No worries if you build the shelf shown here, though; its full-extension slides can support over 100 pounds. Besides, nothing store-bought can ever compete with the finished look of a custom-made wood shelf.