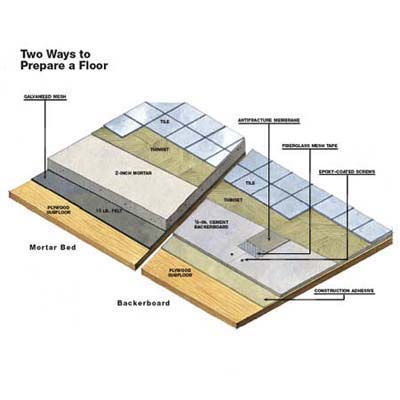 For mudroom or laundry room floors, self-adhesive vinyl tiles (commonly called "peel-and-stick") are an easy-to-install alternative to sheet vinyl or ceramic tile. The 12-by-12-inch squares have a factory-applied glue that's protected by a removable backing sheet.

Good peel-and-stick tiles range in price from about 75 cents per square foot to over $3. Avoid thin, bargain-bin tiles; they'll quickly wear out.

Click "enlarge this image" to read illustration labels.
Contribute to This Story Below
Electric heat gun,
for softening tiles so they're easier to cut with a utility knife

Vinyl tile cutter,
available at rental shops for about $15 a day

Chalk line

Utility knife

Tape measure

Undercut saw (for trimming bottoms of door jamb and casing

Dust broom

Framing square

Sanding pad with 100-grit paper,
for sanding leveling compound

Hammer

Rolling pin or J-roller
1. ADHESIVE-BACKED VINYL TILE
2. LEVELING COMPOUND
for underlayment
3. PLASTIC BUCKET AND 6-INCH DRYWALL KNIFE
for mixing and spreading leveling compound
4. KNEEPADS5. SHOE MOLDING
to conceal gap along baseboard
6. 1 1/2-INCH (4D) FINISHING NAILS
to attach shoe molding