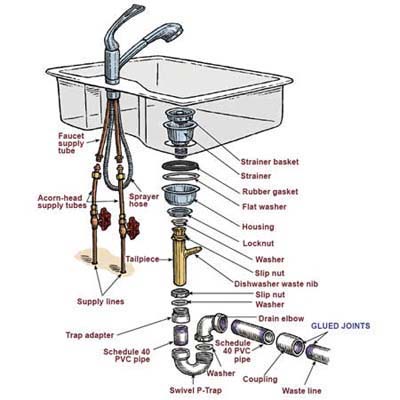 GETTING STARTED
The trickiest part of installing a new sink and faucet is connecting the sink's drain—the pieces between the sink's tailpiece and the waste line. Always start at the sink tailpiece and work down. This is where a swivel P-trap with a trap adapter earns its keep. It can swing side to side on two different axes and adjust up or down.
Before you head off to the store, Richard recommends drawing a "map" like the illustration here and checking the inside dismeters of the tailpiece and waste line, usually 1
½
inches. Then, instead of buying a kit, get only the pieces you need, including Schedule 40 PVC pipe to cut and fit as needed.
Click "enlarge this image" to view illustration labels.

Contribute to This Story Below
Tubing cutter

Jigsaw with laminate-cutting blade

Drill-driver with spade bit

Screwdriver

Mechanic's pliers

Adjustable wrench

Tape measure

Hacksaw,
for cutting PVC pipe

Utility knife or penknife,
for removing burrs on PVC pipe cuts

Straightedge,
for marking sink cutout
1. PVC PRIMER AND CEMENT2. PLUMBER'S PUTTY3. SAFETY GOGGLES4. 2-INCH DUCT OR MASKING TAPE5. PIPE-JOINT COMPOUND
for sealing threaded metal joints