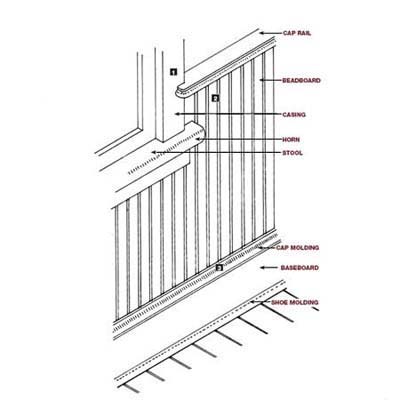 What to do at Doors , Windows, and Floors

Where a cap rail meets a door or window casing, Tom notches the rail so it overlaps the casing. (As a rule of thumb, the overlap should extend the width of the rail minus the casing thickness). Sandpaper and a dab of finish is enough for simple rails, and more complicated rails may require a miter or cope.

When beadboard meets the horn of a stool, notch out the back of the horn (where it meets the wall) and slip the boards behind it. The best tool for making this cut is a backsaw with a offset handle to save knuckles from getting banged.

For added trim detail, set the wainscot on a baseboard and cover the joint with a cap molding.

Click ''enlarge this image'' to view illustration labels.