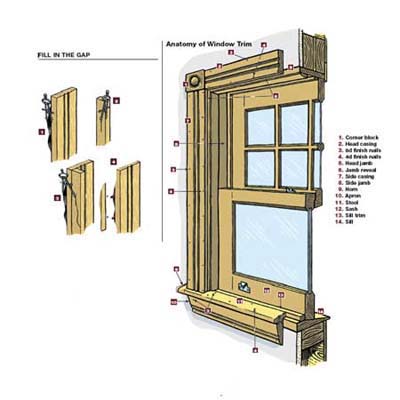 When installing window casing inold houses, Tom often has to contend with walls that dip and bulge, causing gaps between the trim and wall. He can't ignore these impoerfections, but he doesn't fill them with caulk. Instead, Tom uses wood filler strips. "I like to leave a nice clean edge for the painter," he says.

To make them, he first rips a scrap piece of casing to a width of 1 inch and as long as the casing is high. He sets the legs of a compass to span the largest wall-to-casing gap (as shown in "Fill in the Gap" 1, far left). He then transfers that distance to the face of the scrap wood (as shown in "Fill in the Gap" 2). Next, he places the strip perpendicular to the casing at its outside edge, resets the compass to the distance between the largest gap and the mark on the scrap, and scribes the profile of the wall onto the scrap piece (as shown in "Fill in the Gap" 3). After cutting along that line with a jigsaw, he applies carpenter's glue to the profiled scrap piece and slides it into the gap so wall and trim marry perfectly (as shown in "Fill in the Gap" 4). "With a light sanding and paint, the joint disappears," Tom says.

Click "enlarge this image" to view illustration labels.
Contribute to This Story Below
20-ounce finish hammer

Hand plane,
for trimming jamb extensions

Measuring tape

Router,
for making stool profile

Random-orbit sander,
or hand sanding block

Jigsaw,
for notching stool and profiling apron

Pneumatic nailer,
for attaching casing

Compass,
for transferring marks and reveal lines

Table saw,
for cutting rabbet in bottom of stool

Square,
for marking casing, stool, and apron

Utility knife or chisel,
for trimming drywall and adjusting fit of stool

Miter saw,
for crosscutting trim pieces to length

Nail set (to recess heads of hand-driven nails

Drill with 1/16-inch-diameter bit,
for making pilot holes before hand nailing
1. WOOD MOLDING

2. CARPENTER'S GLUE

3. PENCIL

4. PAINT OR STAIN

5. 120-GRIT SANDPAPER

6. WOOD PUTTY

7. 4D AND 8D FINISHING NAILS