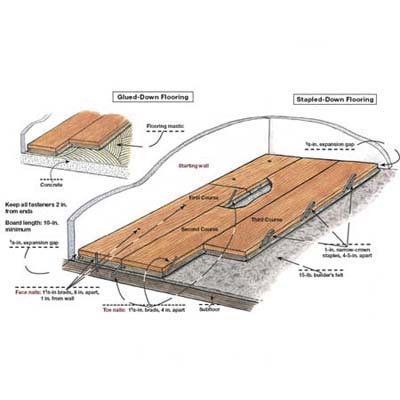 •To estimate how much flooring to buy, calculate the square footage and add a waste allowance: 5-7 percent for straight-course floors; 15 percent for a herringbone. For metric materials, 1 sqaure meter equals about 10
½
square feet.
•Take an inventory of all edges that won't be covered by exisiting trim, including hearths, stairs, cabinets, or openings such as foloor registers or outlets. Order enough factory finished trim to cover these edges.
•Let flooring acclimate in open boxes for 3-4 days in the room where it will be laid.Wait at least a week before opening boxes in areas with new drywall or plaster. Don't store flooring in basements or garages; it might absorb moisture.
•"Try to run the flooring parallel to the longest wall in a room," says Hosking. "It makes the space seem bigger."
Click ''enlarge this image'' to view illustration labels.
Contribute to This Story Below
Straightedge

Handsaw
for trimming door casing

Pneumatic brad nailer
for fastening the first courses of flooring

Miter saw
for cutting flooring strips to length(alternative: backsaw with a miter box

Jigsaw
for trimming pieaces to fit around vents and other obstacles (alternative: coping saw)

Pnuematic staple gun
for securing flooring to subfloor (alternative: hammer stapler)

Notched trowel
for spreading adhesive for glue-down installations

Plaster trowel
for spreading filler to level subfloor

Combination square

Utility knife

Mallet

Pull bar

Plastic tapping block

Hammer

Hammer tacker

Tape measure

Drill

Air compresor
1. ENGINEERED WOOD FLOORS2. MASKING TAPE
for holding together glued-down boards until the adhesive sets
3. PATCHING COMPOUND
used to fill low spots in subfloor
4. 15-POUND BUILDER'S FELT
for use as an underlayment
5. RING-SHANK NAILS OR PHILLIPS-HEAD SCREWS
for securing subfloor, if necessary