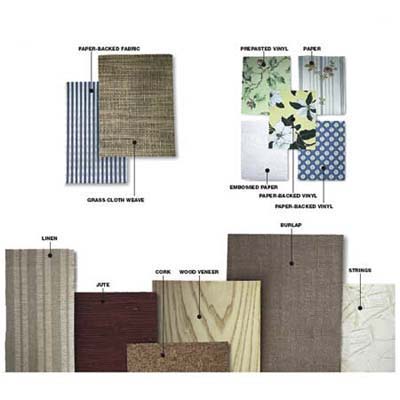 Decorative choices range from delicate silks and grasses to sturdy vinyls and even wood veneer that can be sanded and finished like solid wood paneling.

Most of the wallpapers sold in this country are paper-backed vinyls. According to John Dee, these are easier to work with than more delicate and tear-prone plain paper, and generally come prepasted eliminating the need to roll on starch-based adhesives. They can, however, be harder to cut and require bonding with vinyl-to-vinyl adhesive.

Tip: Silk, grass, cloth, and textured papers also require careful attention during installation: "You absolutely can't get paste on their faces," Dee says. "There's no way to wipe it off."

Click ''enlarge this image'' to view image labels.
Contribute to This Story Below
More in Painting & Finishes
Rectangular sponge,
for initial smoothing of wallpaper

5-gallon paste bucket, nylon brush, and 3/4-inch-nap paint roller

Allen wrenches,
for removing towel bars in bathrooms prior to papering

2- and 4-foot levels,
for drawing plumb lines on wall and guiding long cuts

10-inch torpedo level,
for plumbing short pieces above and below windows

Utility knives with snap-off blades, and single-sided razor blades,
to cut and trim paper

Scissors

Folding rule and tape measure

6-inch, 3/4-inch, and 1

½

-inch putty knives,
for guiding cuts along trim

Screwdriver,
for removing and replacing switch plates and receptacle covers

Smoothers,
for final smoothing of wallpaper
1. PREMIXED STARCH-BASED ADHESIVE
2. VINYL-TO-VINYL ADHESIVES
for installing borders and securing corners when using vinyl wallpaper
3. SPRAY-ON RUBBER CEMENT
for applying wallpaper to switch and receptacle plates
4. STIR STICKS
for mixing paste
5. 3/4-INCH-NAP ROLLER COVERS
for spreading paste
6. SEA OR CELLULOSE SPONGES
for cleaning wallpaper after smoothing
7. TERRY-CLOTH RAG
for cleaning woodwork and ceiling after sponging