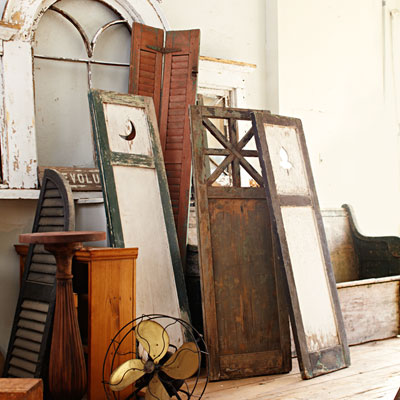 Unlike many new, decorative shutters, which are fixed to the house in the open position, vintage ones were meant to move. They swing on hinges mounted to the window surround and are secured with tiebacks, called "shutter dogs," when not in use. The operable shutters sold at home centers today work the same way, but you'll be hard pressed to match the quality and craftsmanship of the old ones. To find these, you'll have to hit a salvage yard.

Keep in mind that old shutters are also often coated in lead paint. So you should brush on clear polyacrylic to seal the old paint, and commence repurposing.

Shown: Vintage shutters like these can be found for $25 to $75 each.
Contribute to This Story Below
Tape measure

Pencil

Rafter square

Circular saw

Bar clamps

Drill/driver

Screwdriver

Paintbrush
ShutterFold-up ironing boardIron restHanging bar1x8 boards

¾

-inch plywood1

½

-inch wood screws

¾

-inch No. 10 screws2 cabinet hingesCabinet knobSpackling compound or wood puttyPaint