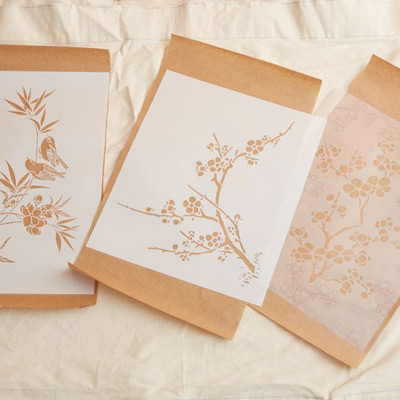 Round up three stencils with motifs of roughly the same size, plus a stencil with one or more smaller details that can be slipped in. The stencils we used are JA114, JA138 and JA47A, TP31 by The Stencil Library, a British maker (from $26 each;
stencil-library.com
). Arrange the stencils on the floor to see how they might flow, keeping in mind that this type of pattern works best when strong vertical elements, such as branches, are oriented toward a focal point, like this headboard. To maintain that orientation, you may need to flip the stencils when moving from one side to the other for a mirror-image pattern. Consider filling in small areas with a special detail from one of the stencils, such as the birds-on-bamboo here.

Contribute to This Story Below
More in Painting & Finishes
Small foam roller

and/or Stencil brush
1. Flat latex for base coat2. Semigloss latex for stenciling3. Repositionable adhesive4. Stencils. Get three or more of complementary patterns
Stencils available at craft and paint stores. Used here: JA114, JA138 and JA47A, TP31 by The Stencil Library, (from $26 each; 
stencil-library.com
).