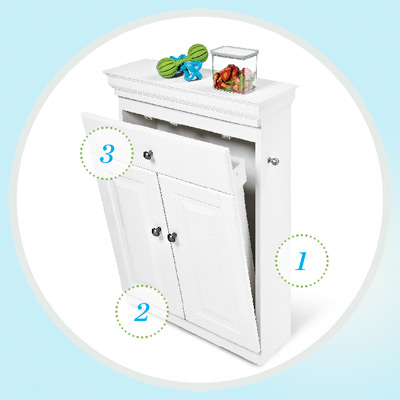 Here are the main parts of the project, in brief. You can
download a parts diagram and cut list here
.
1. The Cabinet.
A simple box built from plywood and 1× material hides the mattress; we topped ours with a shelf trimmed with molding. Magnetic catches and a locking pin on one side secure the deck upright when not in use.
2. The Deck.
Cabinet doors, held together with cleats and attached to the cabinet with a toy-box hinge, fold down to serve as the deck. The mattress is enclosed in a frame of 1× material that's attached to the back sides of the doors.
3. The Drawer Front.
A false drawer is fastened to the back of the bed frame with a toy-box hinge so that it can fold up to act as the "foot" of the Murphy bed.
Cut List to Build a Murphy Bed for Your DogFor the cabinet:
1x8 sides: two @ 35
¼
inches
1x8 top: one @ 24 inches
1x4 crosspieces: four @ 22
½
inches
1x4 header: one @ 24 inches
¼
-inch plywood back: one @ 24 x 36 inches
2
½
inch baseboard: three @ cut to length
shoe molding: three @ cut to length
For the bed frame:
1x4 short sides: two at 19 inches
1x4 long sides: two @ 25 inches
1x4 crosspieces: two @ 19 inches
1x4 stop block: one @ 3 inches