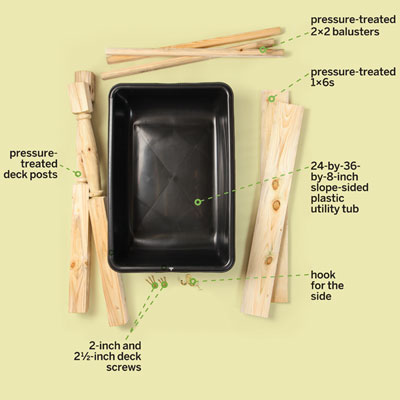 Herbs should be grown in soil that's at least 4 to 5 inches deep, says the National Gardening Association. We built our planter from pressure-treated lumber: four deck posts and some 1x6s and 2x2 balusters. Tom cut the parts on a miter saw, but you can use a portable circular saw or even a handsaw instead. The bottom of the planter consists of a couple of floorboards to support a sturdy liner that holds the soil. We used a plastic utility tub for this purpose and simply sized the planter to enclose it.
Herb-Garden Planter Cut List
3
¼
-inch-square corner posts: 4 @ 36 inches
1x6 for short sides: 4 @ 22
½
inches
1x6 for long sides: 4 @ 34 inches
1x6 floorboards: 2 cut to fit (Ours were 25 inches.)
2x2 cleats for long sides: 2 @ 31
¼
inches
2x2 for long sides: 4 @ 7
¼
inches
2x2 for short sides and corner blocks: 10 @ 8
½
inches
Download and print the
cut list
Contribute to This Story Below
Miter saw

Drill/driver

Brush for stain
All lumber is pressure-treated.3

¼

-inch-square deck posts.
Get four.
1x6.
Get four 8-foot boards.
2x2 balusters.
Get five 42-inch balusters.
2-inch deck screws2

½

-inch deck screwsDeck stainTwo or more double hooks
for the ends, plus fasteners
A plastic utility tub at least 6 inches deep.
(Ours was 24 by 36 by 8.)
GravelPotting soil