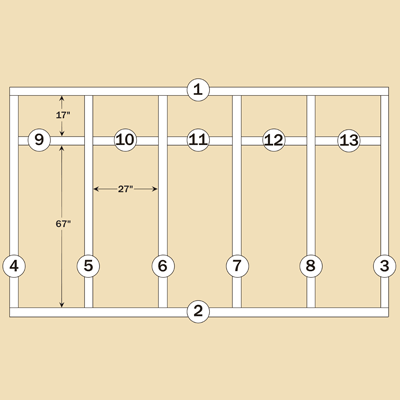 Before beginning the project, you'll need to take your wall's measurements to figure out how much material you'll need for rails and stiles. Using paper or drafting software, create a diagram based on your wall's measurements. For the Malineks' design, Lee divided the wall, which is just over 13 feet long, into five panels 27 inches wide and separated by the (actual) 3
½
-inch-wide trim. You can tailor your own scale to the width of your wall and the width of your material with this formula:
a.
Determine the number of panels you want—four, five, or six tend to look best.
b.
Multiply the number of stiles your design requires by the actual width of the material to get the total width of the stiles. (Be sure to include the end pieces if following the Malineks' design—six stiles bracketing five panels.)
c.
Take the overall width of the wall (in inches) and subtract the total width of the stiles to get the total leftover wall space.
d.
Divide the leftover wall space by the number of panels. That will give you the spacing between stiles.
Contribute to This Story Below
More in Molding & Carpentry
Handsaw or miter saw

Brad nailer
1.

½

-by-4-inch medium-density fiberboard (MDF) trim
2. Panel adhesive
3. Brad nails
4. Joint compound
5. Sandpaper
6. Paintable caulk
7. White paint