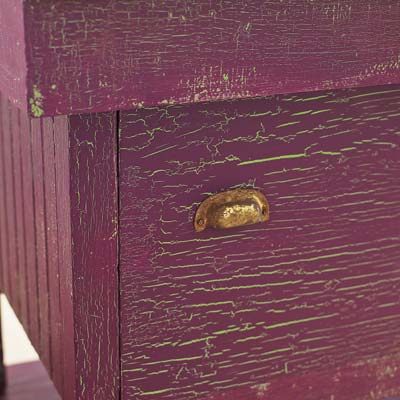 To artificially age the kitchen island shown here, decorative painter Ingrid Leess started by priming it, then brushing on a coat of flat lime green. The following day, she applied a thick layer of crackle medium, using a clean brush and taking care not to overwork it and dry it out. She let it dry for an hour (the medium must cure for 1 to 4 hours to work), then used a clean, dry brush to add a coat of purple. Soon after, it began to shrink, revealing bits of green—and faux history—beneath. A protective clear coat is an option, but here an unvarnished finish reinforces the worn look.
Contribute to This Story Below
More in Painting & Finishes
Damp sponge to clean off dirt

3-inch nylon-polyester paintbrushes Get two 
so that you'll have a clean one ready for the top coat.

Cut bucket and liners
1. Latex primer-sealer to create a good surface for the base coat

2. Crackle medium. We used Sherwin-Williams' Faux Impressions Crackle.3. Latex paint in two colors. Choose high-contrast colors for the most dramatic effect. For best results, be sure to use a flat or matte finish for the bottom coat. Eggshell will work for the top coat, but nothing shinier.

4. Water-based polyurethane (optional) to clear-coat and protect the crackle finish. Satin will look the best.