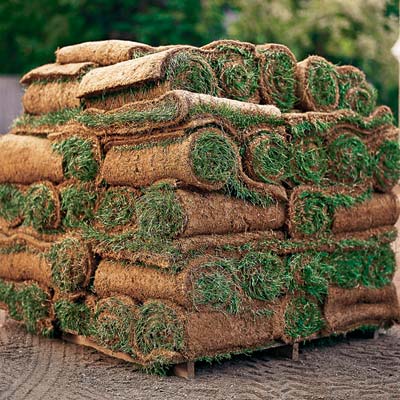 Turf likes a well-aerated base that's slightly acidic (with a pH between 6 and 7.5) and nutrient-rich. And the only way to know what kind of soil you've got is to test it. For about $15, your local extension service will send a soil sample to a lab for analysis; results will come back within a week or two and indicate precisely what amendments you should add and in what quantity.

Then it's time to buy your sod. Depending on where you live, you can order it from a garden center or directly from a sod farm. It will generally be a mix of two or three turf grasses, chosen for optimal color, texture, and heartiness (be sure to tell your supplier if your yard's in partial or full shade). Ideally, sod should be delivered within 24 hours of being cut and be laid the same day. Measure your yard carefully so you can order the right amount, with some overage (about 5 percent) to account for cutting around curves.

Count on one weekend to prepare the soil and another to lay the turf. If your yard is covered with patchy grass, you'll need to remove it first. This is best done with a sod cutter (available from your local rental yard for about $70 per day), which slices it off below the roots. While you're at it, you'll want to rent a rototiller (about $55 per day). You'll also need a sod-cutting knife with a 2-inch blade, a spreader, an iron rake, compost, and other soil amendments, including fertilizer and lime, depending on what your soil analysis dictates. Two people should be able to cover 1,000 square feet in a day; get extra hands if you plan to lay more than that.

Read on for our step-by-step instructions for rolling out a lasting carpet of green.