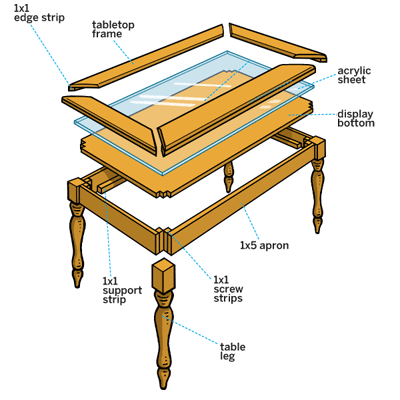 Download
fun extras
including drink and food pairings to go with this project.
Cut List
Our list is based on table legs with a 2
¼
-by-2
¼
- inch section on top that's 5 inches long. This unturned portion of post provides the flats to attach the apron pieces; its width will affect the dimensions of the tabletop frame, so be sure to adjust your measurements accordingly if you go with legs of a different size.
1x5 apron: 2 @ 22
½
inches
1x5 apron: 2 @ 46
½
inches
1x1 support strips and edge strips: 2 @ 21 inches
1x1 support strips: 2 @ 45 inches
1x1 screw strips: 8 @ 4
½
inches
Baseboard for tabletop frame: 2 @ 26
½
inches (tip to tip)
Baseboard for tabletop frame: 2 @ 53
½
inches (tip to tip)
1x1 edge strips: 2 @ 26
½
inches (tip to tip)
1x1 edge strips: 2 @ 53
½
inches (tip to tip)
Acrylic sheet: 1 @ 27 by 51 inches
½
-inch plywood bottom: 1 @ 24 by 48 inches