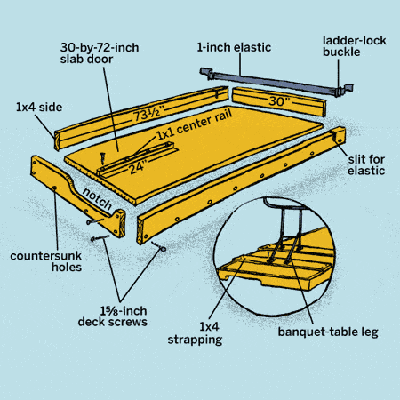 Take a hollow-core door and some foldable banquet legs, and you've got the basics for Ricochet, our portable version of shuffleboard. Instead of aiming pucks down one long surface, you have to bounce them off an elastic band at one end of the door to land in the scoring zone. Installing preprimed 1x4s around the sides of the door creates a lip to keep the pucks from flying off the table, and an elastic band (found at any sewing store) inserted into two slits near the end of the table makes a nice, taut band that'll bounce the pucks back toward the scoring lines.
Cut List
1x4 long sides: 2 at 73
½
inches
1x4 short sides: 2 at 30 inches
1x1 center rail: 1 at 24 inches
1x4 strapping: 4 at 30 inches
Download rules and a scorecard for the game of richochet.