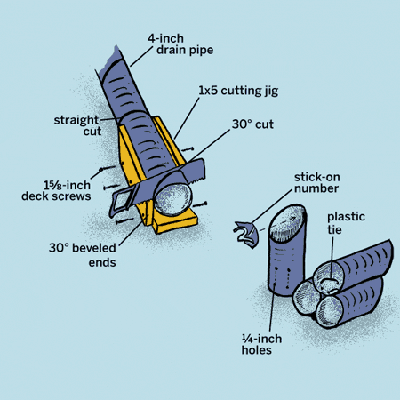 To create a triangular rack of pipes whose openings angle toward the players, you'll cut different lengths at a 30-degree angle and arrange them with the shortest one at the front. Because the width of the drainpipe is larger than many miter saws, you may need to fabricate a jig to guide your pull saw at the appropriate angle. And since the pipes aren't made of PVC—and can't be glued—you'll need to drill holes where they meet and attach them to one other with plastic ties. Once you're finished, you can create a second rack and set up a playing field, or have everyone trade off aiming at the same rack. Either way, it's easy to spot the true pros. They're the ones who score while holding a drink in one hand.
Cut List (per rack)
All dimensions are measured to the longest point of the tip angle
Drain pipe: four at 14 inches
Drain pipe: three at 11
½
inches
Drain pipe: two at 9 inches
Drain pipe: one at 7 inches
1x5 jig base: one at 24 inches
1x6 jig wall: two at 24 inches, beveled 30 degrees at one end
Download rules and a scorecard for the game of pipe ball.