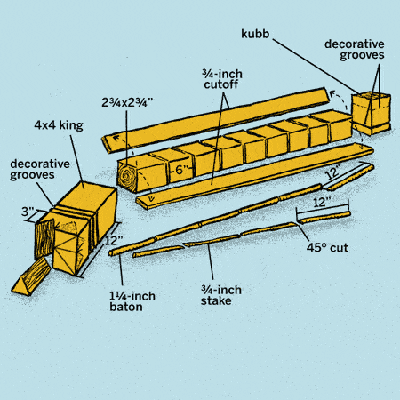 The king and kubb pieces all can be cut from a 4x4, but before you unleash a Scandinavian fist-pump, you should know that the project will be a little more involved than sawing off a post. While the king retains his appropriately portly 4x4 girth, the smaller kubb pieces need to be ripped down to 2
¾
inches, making them suitably easy to knock over. Once you size the pieces, you'll cut decorative grooves with a handsaw, and notch the top of the king to create a crown. All the better to recognize him, so you don't accidentally bring him down until you've toppled all the kubbs. Long live the king.
Cut List
• 4x4 king: one at 12 inches
• 2
¾
x 2
¾
kubbs: ten at 6 inches
•
¾
-inch dowels: four at 12 inches (to the long point)
• 1
¼
-inch dowels: six at 12 inches
Download rules and a scorecard for the game of kubb.