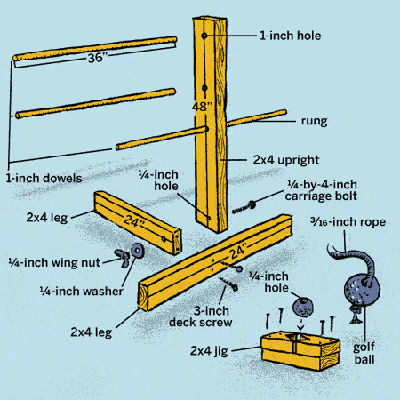 Our vexing version of the popular game Ladder Golf ups the ante considerably: The point-bearing horizontal rungs, instead of securely bridging two posts, are supported by just one upright. That means that even the most deft of tosses can slip right off the exposed ends—in which case you get zilch. It also means that building this addictive yard game mostly comes down to drilling 2x4s for the dowel rungs, bolting the boards into T-shaped stands, and drilling a dozen golf balls. When you're finished playing, you can slip the dowels out and collapse the upright for easy storage. Here's how Team Saturday gets it done for fun.
Cut List
(Cut list is for two racks and six playing pieces)
• 2x4 upright: 2 @ 48 inches
• 2x4 legs: 4 @ 24 inches
• 3/16-inch rope: 6 lengths @ 20 inches
Download rules and a scorecard for the game of ladder golf.

Contribute to This Story Below
Miter saw

Drill driver fitted with 1-inch paddle bit and

¼

-inch drill bit

Paintbrushes

Flat-head screwdriver

Utility scissors

Pull saw
1-inch dowels
Get six at 36-inch lengths
2x4s
Get two 8-foot boards
Golf balls
Get at least 12
3/16-inch twisted nylon rope
Get a 10-foot rope
Stain-blocking white primer
Get 1 quart
Spray paint
in at least four colors
Two

¼

-by-4-inch carriage boltsTwo

¼

-inch washersTwo

¼

-inch wing nuts3-inch deck screws