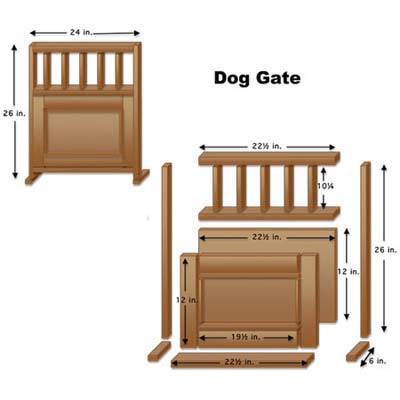 Before you hit the home store for supplies, take note of a few key design tips for your dog gate:
• The gate should stand twice as high as the ridge between his shoulder blades (known as the withers).
• Size the bottom panel so that your dog can just see over the top of it.
• The spindles should be close enough together so your dog's head can't fit through and get stuck.
• The taller the gate, the longer the gate's feet should be, to keep it from toppling over.
• If you've got a chew-happy puppy, make the gate from a cheaper, paint-grade lumber like pine, instead of the furniture-grade oak we used, until he outgrows the gnawing phase - and make sure the finish you use is nontoxic.
• If you have a strong or large dog that can knock over a gate, consider adding an eyelet screw to each side and hooks to the doorframe so you can secure the gate inconspicuously in the proper spot when needed.
Cut List
Note: The quantities listed are sufficient to build a two-section gate with each section measuring 24 by 26 inches. Adjust the quantities as needed for your design. Download plan
here
1.
1x2 legs - 4 @ 26 inches
2.
1x2 Crosspieces - 6 @ 22
½
inches
3.
1x2 Spindles - 8 @ 10
¼
inches
4.
1x2 Stiles - 8 @ 12 inches
5.
1x2 Rails - 8 @ 19
½
inches
6.
1x2 Feet - 4 @ 6 inches
7.
½
inch oak veneer plywood - 2 @ 12 by 22
½
inches
8.
Panel molding - 8 @ custom cut to size
Plan to make one of these?
Show us the finished project
and you could be featured in
This Old House
magazine