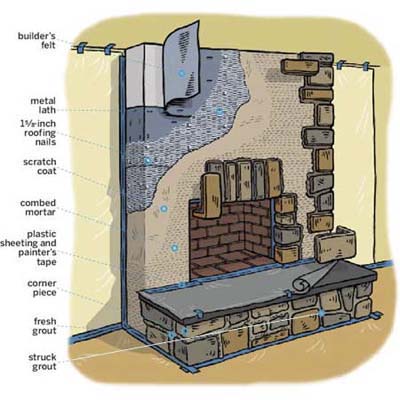 Project Timeline

Friday: Apply the builder's felt, metal lath, and scratch coat, which will dry overnight.
Saturday: Install the stones and clean out the joints between them.
Sunday: Grout the joints.

Contribute to This Story Below
Stud finder

Staple gun

Hammer

Finishing trowel

Tiling trowel with 3/8-inch notch

Grinder fitted with a diamond masonry blade

Brick trowel

Brick hammer

Grout sponge or spray bottle

Grout bag

Masonry striking tool

Whisk broom
1. Stone veneer.
Get about 20 percent more than you need to cover your fireplace, to accommodate fit and breakage.
2. Builder's felt.
It acts as a moisture barrier between the mortar and your walls to prevent water damage.
3. Metal lath to install over the felt.
It keeps the mortar in place, creating a base for the stone veneer.
4. 3/8- or

½

-inch staples.5. 15/8 -inch galvanized roofing nails.6. Veneer mortar.
It contains special additives to create a strong bond between the stone veneer and the surface to which it's attached.
7. Plastic sheeting.
Tape it to your walls, floor, and hearth to protect them while you work.
8. Painter's tape.9. Old drop cloth
(optional).