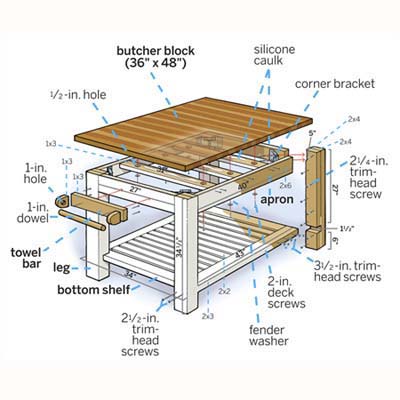 Butcher-block islands are perfect for toning down the coldness of stone counters and metal appliances in modern cook spaces. You can bring this classic aesthetic to your kitchen by constructing a prep island from easy-to-buy materials.
Contribute to This Story Below
Jigsaw

Speed square

Drill/driver,

½

-inch bit, and 1-inch forstner bit

Caulk gun

Putty knife

Paintbrush
1. Butcher block.
Order a 36-by-48-inch block.
2. Poplar 2x4
to build the legs. Get four 6-footers.
3. Poplar 2x6
to build the apron. Get two 6-footers.
4. Poplar 2x3
to frame the bottom shelf. Get an 8-footer and a 6-footer.
5. Poplar 2x2
to build the shelf slats. Get nine 8-footers.
6. Poplar 1x3
to build the crosspieces and bracket for the towel bar. Get two 6-footers.
7. 1-inch dowel
to build a towel bar.
8. Silicone caulk
to adhere the butcher-block to the crosspieces and frame.
9. Surface-mounted corner brackets
to hold the butcher block, apron, and legs together. Get four.
10. 2

¼

-inch trim-head screws11. 2

½

-inch trim-head screws12. 3

½

-inch trim-head screws13. 2-inch deck screws
to attach the butcher block.
14. 1-inch fender washers15. Wood glue16. Wood filler17. Fine-grit sandpaper18. Primer and paint