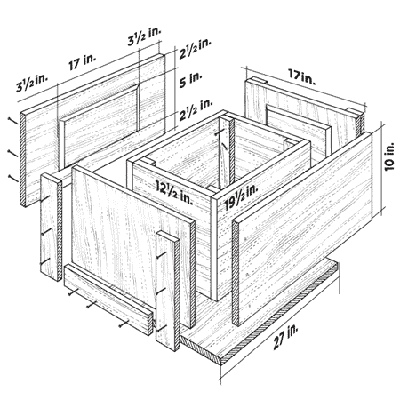 Building the Form
Trough forms can be made from plywood, rigid foam insulation, or two cardboard boxes, one inside the other. We used pine shelf board because it is sturdy and can be used again and again. To create the decorative recess, we glued beveled panels to the insides of the exterior form.
Our trough measured 17 inches wide by 24 inches long by 10 inches high. You can use the same method to build any size trough. For best results, the walls should be a minimum of 2
¼
inches thick, and the trough should be at least 7
½
inches deep.
RECIPE
The amount of hypertufa mix you will need depends on the size of the trough you're making. You can stretch or shrink the recipe if you stick to these basic proportions: 
• 3 parts cement
• 4 parts peat
• 4 parts perlite
• Water sufficient to make a firm, moldable mixture, plus a splash of liquid acrylic (about
¼
the amount of total liquid)
• A handful of nylon reinforcing fibers