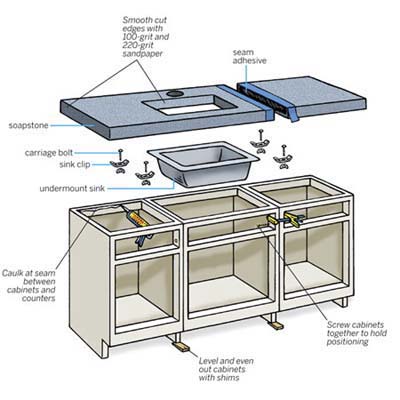 Most countertop installations require making a template and sending it off to wait for the fabricator to return a perfectly cut piece. The advantage to installing soapstone yourself from a raw slab is that you can dispense with the template as long as your space is relatively square. (Of course, a template is never a bad thing, if you want to be meticulous about your work. To follow the process for making one, check out this
How to Install a Solid-Surface Backsplash
.)
As with any stone, soapstone needs a lot of support underneath it—the more surface area it rests on, the better. Gaps and voids underneath one section could put undue stress on the stone. So the first task in any soapstone countertop installation is lining up the cabinets so all the tops are even and the stone can lay flat without rocking. This is best done carefully, with shims placed under the cabinet feet.
Working the soapstone is an easy proposition—the stone is surprisingly soft because of its high talc content, so it can be cut with woodworking tools fitted with diamond-impregnated blades. However, that powdery talc makes cutting outside a must, with dust mask and eye protection mandatory. Also, soapstone's softness means you need to be careful when carrying it, because it could snap at thin points. It's best to carry a cut slab so the face is vertical, to put the least stress on these places. And since it weighs 20 pounds per square foot, expect to call in a couple of helpers to get your counter in place.
The average countertop will require at least one seam to either join two slabs along a long wall or make a 90-degree corner on an L-shaped counter. It's best to hide these seams in discreet places, like in front of the sink or cooktop, where the least amount of the joint will be visible. Adhesive joins the two parts together and blends in with the seam. To make the joint even stronger, you need to cut small slits or grooves in the facing edges of two mating slabs. This gives the seam adhesive more surface area on which to stick.
You can shape the edge of your stone by rounding it over or just taking off the sharpness using a sander with a rough-grit paper. If you have a router, you can even create a fancier roundover or ogee edge. But in any case, the edges will soften over time, especially around an undermount sink, adding to the stone's rustic feel. Although soapstone naturally darkens on its own, rubbing the stone with mineral oil accelerates the process. Oiling also brings out the stone's natural depth and richness, making it more dramatic.