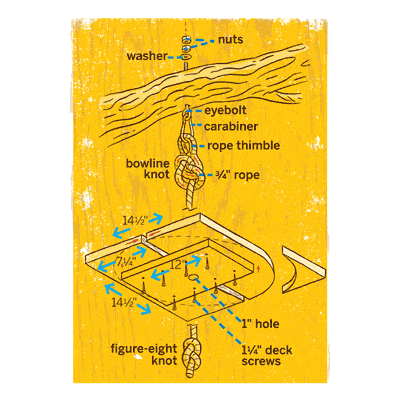 This swing is made from a single hardwood board and comes together quickly. Two pieces cut from a 18 board form one broad, 14
½
-inch-wide seat. A third piece, glued and screwed across the seam of the seat, supports it from underneath.
The whole assembly hangs from one rope tied around a tear-shaped metal holder called a thimble. The thimble keeps the rope from fraying as it swings on a carabiner, or spring clip, hooked through an eyebolt, which is threaded through a strong tree limb.
It's important that the limb the eyebolt goes through is at least 8 inches thick and very healthy so that there is no chance it will break under the weight of a child swinging. It also has to be big enough to hold the bolt several feet from the tree trunk, to keep the seat swinging freely.